This week, Delta announced changes that will start from January 1, 2024, impacting the way SkyMiles members earn credits towards their 2025 status.
Like every change in frequent flyer programs over the past 15 years, these changes are not positive and in fact upend the entire structure of the program – No matter how you qualify today for the 4 published statuses, everything will be more difficult than before
Simple qualification criteria, but a very, very high bar
The new qualification criteria remove the notion of qualifying miles (MQM) and qualifying segments, and offer only a qualification based on the amount spent.
Simple, perhaps. But certainly not easier:
SkyMiles Silver status now requires 6,000 MQD, up 100% from the current 3,000 MQD
SkyMiles Gold status now requires 12,000 MQD, up 50% from the current 8,000 MQD
SkyMiles Platinum status now requires 18,000 MQD, up 50% from the current 12,000 MQD
SkyMiles Diamond status now requires 35,000 MQD, up 75% from the current 20,000 MQD
Once again, the company is spitting in the face of passengers who pay for their tickets with their own money… Because, of course, passengers whose companies sometimes finance expensive trips are the big winners: by traveling little, they can gain status quickly.
Even more restricted access to SkyClubs
The U.S. carrier had already banned its own loyalty passengers traveling in Economy class from its lounges, in favor of American Express customers, in February 2023.
But now Delta is going one step further, breaking its own golden goose: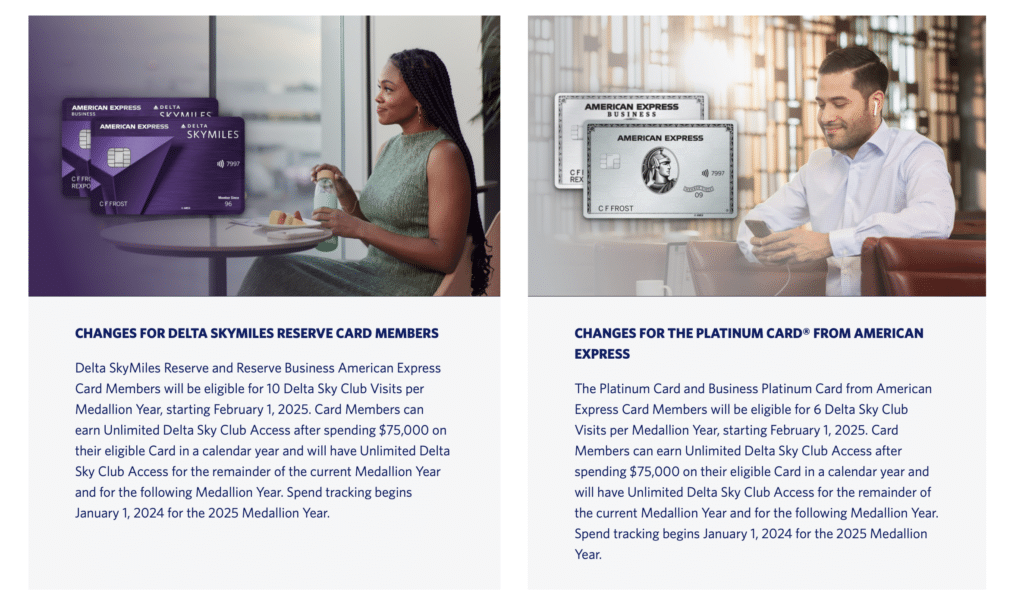 Both for its co-branded cards and for the American Express Platinum card, access will be limited unless a minimum annual spend is reached. And the co-branded Platinum card will no longer offer lounge access.
Finally, tickets booked in Economy Basic class will no longer be eligible for lounge access, even with an Amex card.
Bottom line
Yet another reason to think that Delta has probably become the American airline that has lowered its quality the most, to the detriment of its passengers… But more on that soon.