"Your flight will be operated by an ASL Airlines aircraft and crew." You may hear this phrase if you have booked a flight with Air France this summer in Europe and on the entire medium-haul network. Why and what is the impact on passengers? Here's how it works.
European airlines unable to deliver their summer program by themselves
It's a fact that demand in the airline industry has exploded after COVID. In addition to the legitimate desire to travel after multiple generalized lockdowns, let's not forget that the world's population has continued to grow, while the prioritization of leisure spending over everyday spending has never been so great
Also, during the COVID-19 crisis, many employees took advantage of furlough measures to question their future in jobs that are very hard in terms of working conditions and hours. While some took the opportunity to change careers, others are finally returning to these jobs, which are still in high demand.
The combination of strong demand and a shortage of employees trained in the airline industry is making it impossible for many European airlines to deliver the planned program.
While some chartered services are planned in advance at the time of booking, others are indicated at the last minute.
Swiss and British Airways have anticipated and chartered major airlines
Swiss and British Airways have been using charters to strengthen their medium-haul network for more than a year, with Air Baltic for Swiss and Finnair for British Airways.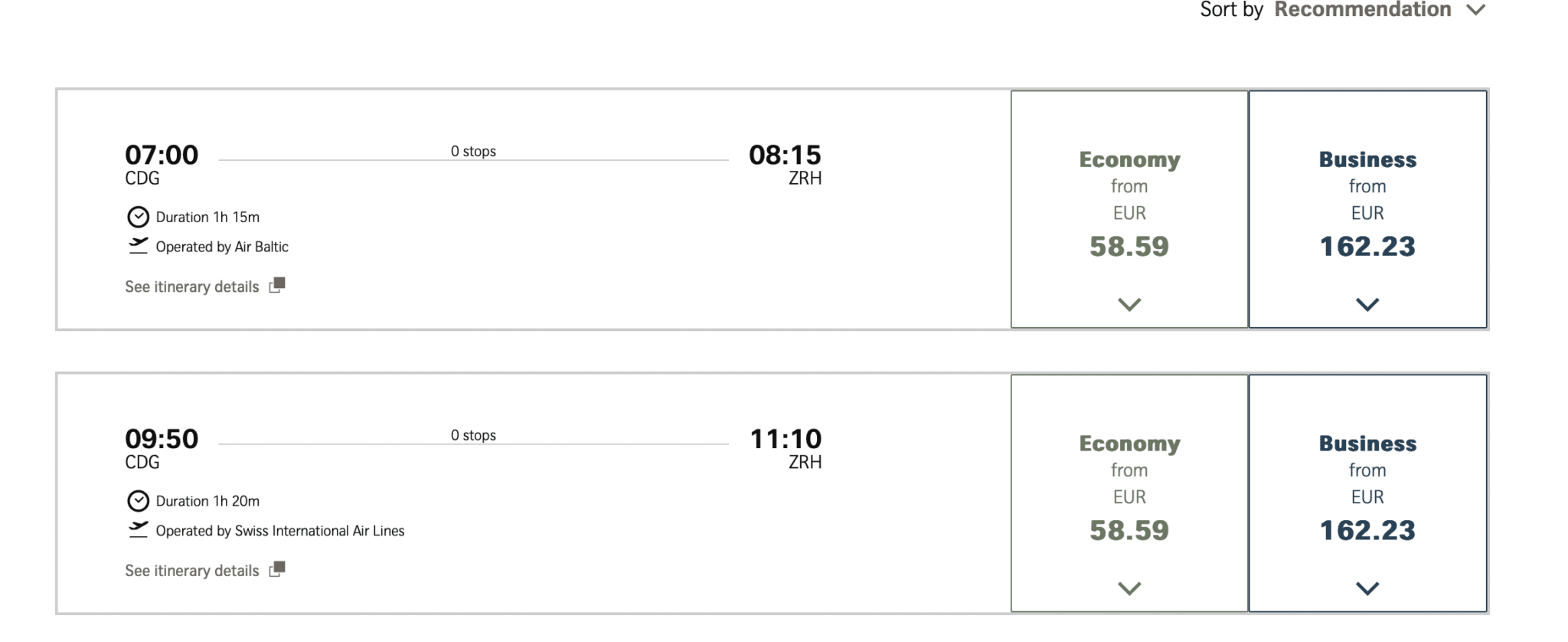 Also, when you book your flight, it says that it will be operated by another airline.
I experienced one of these wet leases last year from Barcelona to London-Heathrow with British Airways: the crew and the plane were indeed Iberia, but the service on board is a British Airways service, in Club Europe as well as in Euro Traveller.
Air France has chosen charter airlines
In order to deliver its ambitious 2023 summer programAir France has chosen tocharter three airlines, Amelia International, which now operates some domestic routes abandoned by the French airline, such as Paris-Brive or Paris-Rodez, Danish Air International (DAT) which operates its own low-cost routes such as Saarbrücken – Berlin and finally ASL France which generally operates its own routes to North Africa and even to Saint-Pierre-et-Miquelon under a public service delegation agreement.
Unlike British Airways or Swiss, Air France has chosen to charter these airlines in single-cabin Economy, which means that all Business customers are downgraded.
Note that Air France allows passengers whose flight has been chartered after their reservation to switch to another flight without change fees.
The complete change conditions offered by Air France:
Les clients de la cabine Business qui ne souhaitent plus voyager sur un vol affrété sont éligibles au :

Change to another Air France flight in the Business cabin at no charge
Full refund of the Business ticket.

Downgraded customers who agree to travel on the charter may request a partial refund after the trip is completed, in accordance with the downgrade policy.
Les clients de la cabine Economy qui ne souhaitent plus voyager sur un vol affrété sont éligibles au :

Change flights at no charge. Only the fare difference, if any, will apply
Refunds through coupon issuance
Bottom line
The experience is quite different depending on the airline you are flying with though. However, it is hard to understand why Air France does not maintain a Business class offering : even if the airlines used are charter, the crews are capable of delivering a Business service.