This post is aboutthe incredible story that happened to me with TAP this year regarding a lost luggage. Not because of the fact that the baggage was misplaced and delayed, these things happen, but because of the way the thing was handled by the airline and the uselessness shown by other players that I expected to be more efficient in this story.
In a previous article I explainedhow things work in case of delayed or lost luggage and I said that in almost all cases everything went well and the suitcase was quickly found. Well, here you will see what happens when everything goes wrong!
During my series of articles about a trip to Portugal last spring you may have understood through numerous hints thatI had a baggage problem on my return flight.Here is the complete story of my mishap and the situation to date.
In this post:
The context: a seemingly uneventful return between Lisbon and Paris
The return flight I found on TAP took me from Lisbon to Porto and then from Porto to Paris. No self-connection, a sufficient connection time (especially since it turned out that it was not a connection but a stop and that I was leaving with the same aircraft), so there was in theory no particular risk.
The only thing that took me out of my usual routine: while I usually never check my luggage for this type of short stay, this time I decided to do so.
The reason? The Sheraton Cascais offered me a bottle of port that I had not drunk, so I decided to bring it back. Since I couldn't take it in the cabin,I decided to check it in the hold.
April 17: a journey that starts badly
It is the 17th of April.
In Lisbon I checked my suitcase at the self drop off and continued my journey as usual. Stop by the lounge, boarding…
However, this is starting to look like a failed flight. Not only, as too often on TAP the boarding is long and chaotic, but also the flight is delayed. No information on the estimated delay, lounge staff unable to provide assistance to me…this is a bad start.
So yes, this is starting to look like a delayed flight, or even a missed connection if I had left Porto on another plane, but nothing that suggests a baggage delay, especially since the airline had all the time in the world to load the baggage during the flight delay.
A first alert in Porto
I ended up arriving in Porto and boarding the flight that would take me back to Paris. At this moment,I check the location of the Airtag I have in my suitcase. The suitcase is still located in Lisbon.
I know that sometimes there is a slight delay and that once you arrive at an airport it takes some time for the real position of the Airtag to be found, so given the shortness of the connection there is still a chance that the suitcase followed the same route as me.
But the way things had started and knowing TAP's reputation for flawed operations, my hunch was that it would end badly. But at this point I was thinking of a baggage delay, not anything more serious.
Arrival in Paris without luggage
Once I arrived in Paris and after a very difficult disembarkation by bus, the situation of my Airtag did not change and, without surprise, once all the passengers had retrieved their luggage on the luggage conveyor belt, I found myself empty-handed.
So I go to the baggage service to fill in a Property Irregularity Report (PIR), an essential formality in this kind of situation. The formality will be simple and the agent as friendly as reassuring. "We will probably contact you tomorrow for the delivery of the luggage to your home. You know on TAP baggage problems are quite frequent".
Always listen to those who know.
Monday, April 18: a ghost baggage appears at Orly
When I get up the next morning I am quite serene. It happened to me twice to suffer this situation, once with Air France on a weird connection on a domestic flight during a strike and once with KLM on the way back from Bali during one of the famous snowy episodes of 2010. Each time, everything ended well and quickly despite the very tense context in the second case.
It's Easter Monday, maybe I'll have to wait another 24 hours but that's it.
Since I don't have much to do during this holiday I will spend my day playing with two tools. Worldtracer which allows me to track my baggage, which is the official tool of the airlines and handlers who manage their customers' baggage operations and the "find my" application on my iPhone to track my Airtag.
And I won't have to wait long.
At 11:52 I realize that my suitcase has arrived at Orly! I don't open the champagne but I tell myself that this story will be over in the following hours.
A look at World Tracer ? This is less reassuring.
Well, I say to myself that it is a question of "lag" between the systems and in any case my Airtag being physically in Paris I know that it is it who says the truth. The discrepancy with Worldtracer must be administrative.
Noon. No news.
2.00 pm. No news.
4.00 pm. No news.
5:31 pm…my suitcase is in a pavilion area in the northern suburbs of Paris and opposite Orly.
Either it was given to a courier service for delivery and it took a little detour or we have a problem.
I call the phone number mentioned on the PIR. At this stage of the delay, it is important to be aware that the passenger is never in direct contact with the airline but with his handler. You only end up talking directly to the airline if the situation gets worse, i.e. if the suitcase is not found after 5 days.
I end up, after a good 20 minutes of waiting, talking to a human being who tells me that my suitcase is still being located and that they will let me know when it is found and sent to Paris.
So I would have detected a ghost suitcase or a prankster Airtag?
Tuesday, April 19. A dialogue of the deaf with the handler
I point out to this nice person that I have located my suitcase in Paris and then outside the airport and I demand to know where it is and why it is there.
The answer is simple: your suitcase is in Lisbon. And I'm asked to be less aggressive because pointing out that I'm tracking my suitcase and that I know more than him obviously puts him in a bad mood.
So for me things are clear: either it has been entrusted to a service provider and this can be explained or it was stolen under the responsibility of the handler but especially of the airline which is in any case legally responsible even if the fault came from his handler in Lisbon or Paris.
At this point I have not received any email or proactive communication regarding this matter.
The next day I would call regularly to see if they knew more and I would always get the same answer until at some point someone said "your suitcase should be on its way to Paris by now and you'll hear from them soon".
I answer "but it arrived yesterday and left the airport".
Terse answer: "Oh, I'll make a note of it".
First lesson: none of the interlocutors I have had so far have traced our exchanges,reported the elements I mentioned, and alerted anyone to what is, in my opinion, a situation that is outside the normal course of events and justifies an agent talking to his supervisor.
This story is starting to smell very bad.I immediately pre-registered online to speed up the filing of a complaint to the police, telling myself that I had to act quickly.
This little game which consists, on my side, to phone the customer service of the handler and, on their part, to answer me that they do not know where my luggage is and thus that I cannot know it better than them since they are the professionals lasted a few days.
So I take the lead and try to talk to the airline directly. Their website being well designed enough to avoid giving you the means to talk to a human beingI go through twitter. And then it gets funny. Or dramatic.
Let me remind you of the context: I know that my luggage arrived and then left the airport while the handler and the airline are still looking for it in Lisbon. But at this point, after some research into the neighborhood of the Airtag's location I'm trying to convince myself that there is hope that it ended up at a courier company for delivery, that it wasn't traced, and that the suitcase is still in a corner waiting to find out what to do with it.
Wednesday, April 20. Is it possible to talk to a human with a brain?
I'll be away for 3 days on a business trip, during which I'll release the pressure, just watching Worldtracer in case a miracle happens.
Understanding that I was only dealing with executors located I don't know where and who had no other information than the one given to them by Worldtracer (so they knew as much or less than I did), I spent my available time (in other words, my evenings) trying to talk to a human being.
I will be contacting through Linkedin a number of people at TAPwhose positions suggest to me that they might be able to assess the situation and make decisions.
In Francenobody will answer me. It's weird when you're in a senior position in a market and a customer comes in with a problem like mine and asks for help.
A response will be sent to me from Portugal, at headquarters. I hesitated for a long time to mention people by name in this article and decided to do so. I feel like so many people didn't do their jobs, didn't use their brains, and didn't raise their hands at a time when they saw they were faced with an exceptional situation and a dysfunctional organization that this was an opportunity to say thank you to the only two people who stepped up for me.
So I quickly receive a message from Frederic Babu, Senior Vice President Customer Engagement Marketing, Advertising & Branding at TAP, based in Lisbon.
I explain to him the circumstances that lead me to talk to him and he promises to do his best to clarify what is going on.
Given his position I don't think he is the most legitimate and concerned at this point with my case and that other people I contacted would have been wiser not to throw my message in the trash. But their managers will never know. In any case, someone has taken responsibility, even for others, and I thank him for that.
Thursday, April 21. TAP invents the pdf web form.
As you may have read in our article on the rules to follow in case of lost luggage, the passenger has 5 days to provide the airline with a detailed and descriptive list of the contents of his suitcase in order to help the airline identify it.
Indeed, when the airline is faced with a mountain of black suitcases with wheels, it is sometimes necessary to open them to identify one precisely. This is not so much the case here as it is not a massive delay problem related to a major operations problem but it is like that.
Of course, the passenger who does not know the system well is not aware of the necessity of this step. That's why TAP sends me an email to remind me of that.
This is the type of email that can end up in spam or that the passenger will not read because of the text, the wording, the branding. Fortunately I was expecting it.
It is a work of art of customer experience on the web. I follow the link in the email and arrive on a page where I am offered to download a PDF.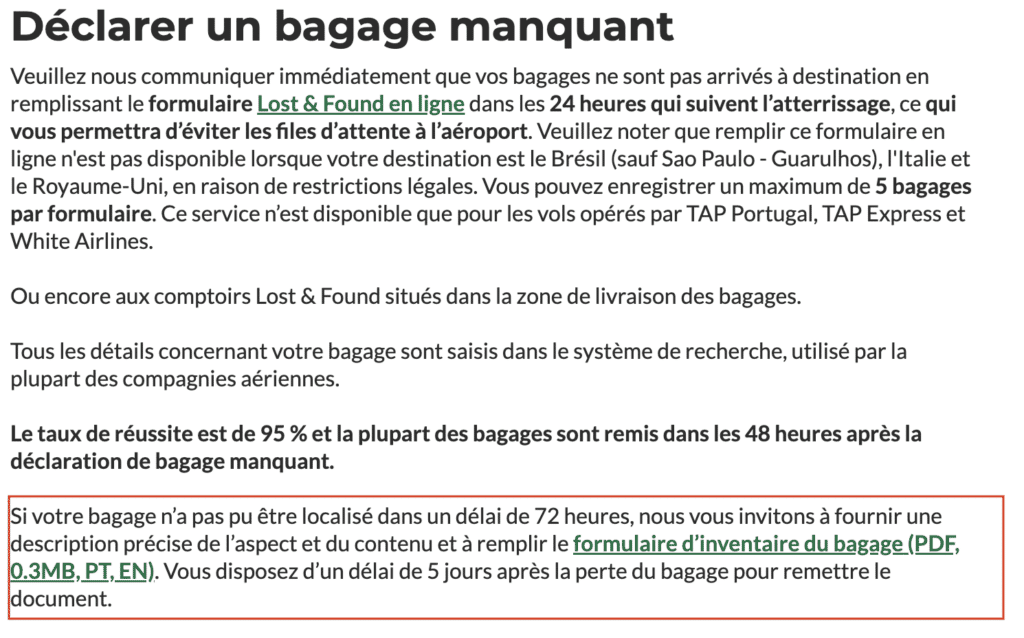 It is sure that if it is to get the information quickly a PDF is more efficient than a web form.
But what follows is even more beautiful. Here is the form in question.
Firstly, it is not explained anywhere what to do with the form. Send it by mail? By email ? At which address? In fact I will understand by myself that I then have to go to another part of the site dedicated to customer service, find the right web form to fill out, and at the cost of a disastrous experience (unclear forms, error messages not explained while it is not obvious to understand all the headings) and then send the form through that.
But this is not explained anywhere and I challenge the average passenger to find their way through this mess. After my multiple bad experiences when booking tickets with TAP I can only say that their digital experience is one of the worst in the market.
But there is more fun! Did you notice the "Submit form" button? A button on a pdf ? Come on. Apparently they asked a designer to design a web form and in the end said "oh it's too complicated, let's make it simpler and put it in PDF. And what do we do with the button? Well, forget about it, keep it".
The PDF with dummy button may be the future of web design… I'll ask some friends who are experts on the subject what they think.
Excuse me but at this point I am happy to find something to laugh about.
It's Thursday the 21st, I have until the next day to send the form, I'm out of town, so I'll fill it out on Friday evening back home.
Friday, April 22. The Day We Made Contact
As in the movies, after the Suitcase Odyssey comes the Day We Made Contact. Science fiction fans will appreciate the tribute to the late Arthur C. Clarke.
While I'm on the train back to Paris I get a phone call from an unidentified number and my 6th sense tells me that I better pick up.
The conversation will take place in bad conditions, the toilet of a train not being the best place especially when the network is weak in the middle of the countryside.
In short, it's a person from the handler's litigation department, from what I understand anyway. We take stock of the situation (I think a message arrived from Lisbon to tell them to get off their butts) and we are completely aligned. The luggage was probably stolen at Orly. They will investigate on their side but she advises me to file a complaint, something already in progress on my side as I already told you.
And of course, since the baggage is no longer in their hands or in the hands of the airline, and is no longer in an airport, it is not necessary for me to fill out the form with its contents. That's as much time saved.
There is still (I like to be positive) a one in a million chance that the suitcase ended up with a provider by some miracle. And anyway, even if it is too late, I tell myself that if the case starts to be taken seriously I will at least have an explanation.
Monday, April 25. "You know where your suitcase is? Well, figure out how to get it back".
The weekend is over and I'm having a hard time calming down. I am happy to have interacted with two executives who were mobilized but what a waste of time. And then, because that's what counts, seeing such a dysfunctional organization pisses me off (simple professional deformation when you're an operations director yourself).
On Monday on my way to the office I pass a police station. I had no news about my online pre-complaint. The process should be smooth and I thought I would be contacted within a few days but a week has passed and I have no news. So I decided to file a complaint directly at this police station. Finally one is never as well served as by oneself.
In front of the door the guard asks me the reason of my coming. A rather lunar dialogue follows.
What are you coming for?
File a complaint for a suitcase theft.
Was there an assault?
No.
Are you sure you really want to do this?
Well, yes.
Ok show me your ID.
Ok.
But you travel a lot. What is the reason for your travels? Why this or that country? How are these trips funded?
I come for a suitcase theft and I feel that he is close to sending me to Guantanamo. Anyway.
After an hour of waiting I am received by a judicial police officer who will take my complaint. We were only 2 people in the police station apart from the policemen.
It will take less than 10 minutes for everything to be documented on the minutes.
What's next?
"I advise you to call the police station of the city where your suitcase is located. Maybe they will agree to accompany you to get it back".
Well, now I'm falling off my chair.
A suitcase was stolen. We know roughly where it is (with the margin of error of Airtags 3 house are concerned). I file a complaint. And then I am told thatI can try to get it back and that, if I am lucky, the police will come with me.
If you want I can help you with traffic, speed and alcohol checks and write tickets while we're at it?
All kidding aside, this story is starting to get on my nerves.
The investigation leads to nothing
Another phone call a few days later. She is the president of the company that handles operations for TAP at Orly (the handler…). And since I said I was going to thank those who did their jobs, I thank Emmanuelle Dos Santos for the time she took and the follow-up she did.
She confirms that she was contacted directly by Frederic Babu who demanded an investigation and answers.
The employee list has been checked. No address matches. The same goes for the provider list.
At least we know that it is a theft and not a misdirection. We discuss at length about the way it all works, about the flaws in the system….I think she is surprised that I quickly identify what happened, but by dint of frequenting the airports one starts to know.
What worries her is whether a person left by chance with the wrong suitcase, it happens but in this case they end up bringing it back and getting theirs or if it is an organized theft ring. Disappearing suitcases happen, but individual acts and an organized system are not the same thing for her and she would like to understand.
In order to do this,she needs TAP to file a complaint in order to have access to the airport surveillance videos, because obviously, the airline being responsible for the baggage, my complaint or a possible complaint from her is not enough. And this complaint must be filed quickly before the video tapes are erased.
Not having heard from them since, I think that the airline, or at least its authorized representatives, have not done so.
It was also mentioned that in some countries it is not possible to leave the baggage claim area without a check to prove that you are in possession of the corresponding baggage receipt and that it is yours. Obviously, the implementation of such a system is not at all on the agenda in France.
I still have to wait for the 21 days after which the luggage is considered as lost to ask to be compensated.
Hello it's the police !
One month after the event my phone rings. my phone rings. I am in a meeting and send my caller to my voice mail. A little later I listen to the message.
"Hello this is the police station".
Great news, something is finally happening.
"We're calling you in regards to your pre-complaint to see when you might be able to stop by to sign it."
Cold shower.
It has been a month since things happened, 3 weeks since a complaint was filed.
I won't call back.
Compensation? Are you kidding?
After 21 days I can finally claim my compensation. The Montreal Convention limits it to 1600 euros, according to my calculations (therefore having inevitably forgotten things) replacing the suitcase and its contents would cost me at least 4800 euros. Well, it's better than nothing.
The answer from TAP arrived 48 hours later, by email.I tell myself that they will nitpick on a lot of details to avoid paying the maximum compensation but I don't expect such a response.
To summarize:
1°) My luggage has been lost. I will even say to be precise that it was stolen under their responsibility which for me is an aggravating factor, but that is not the subject here.
2°) I did not send them the description of the contents of the luggage before my claim (see the conversation reported above).
3°) I did not give them the means to find the suitcase.
4°) I am therefore not entitled to any compensation.
I reply to this email on June 14. Yes I know businesses don't like us to answer an email and prefer us to spend our time filling out forms.
I recall the special circumstances of the case and add that the baggage could not be found since it was no longer in the airport.
It will take one month for me to get an answer, on July 18. One month to answer, they must have looked at the file carefully!
5 weeks to tell me I have to write to another department? I follow the link and arrive…at the same form I used to file for compensation. I spend another eternity filling it with all its malfunctions and submits it.
I did it on July 19th. I have had no response since.
What really happened to get there?
Before I give you my opinion and even suggest some ways to improve, we must try to understand what happened. After Air Crash Investigation, here is Lost Bag Investigation.
1°) My luggage is not loaded on the plane in Lisbon
I will never know why my luggage was not loaded on the plane in Lisbon. Plane too full ? Lack of staff? Forgotten? Logistical problem?
All I can tell you is that the staff at Orly to whom I reported the incident told me that it was a frequent problem. Olivier, who has traveled with TAP since then, confirmed that tons of luggage were left at the bottom of the plane without being loaded. To avoid a delay?
2°) My luggage is sent back to Paris the next day
Here everything is normal for an abnormal situation. The luggage is sent on the first flight on which there is room to put it. Luggage travelling without its owner is never given priority when the holds are full.
3°) Worldtracer is not updated
How come it was never mentioned in Worldtracer that the suitcase was found and put on a plane?
It is important to know that we never know until the last moment on which aircraft a lost baggage will leave. However, the fact that it remained marked as "not found" is a real problem of tracking.
4°) The baggage is not located in Paris
At no time was the staff in Paris informed that the baggage had arrived and therefore did not take possession of it. Hence the fact that this information is also missing from Worldtracer.
This is unfortunately logical.
The airline puts the baggage on the plane, it arrives on the baggage conveyor in Paris and there it is up to the handler to take possession of it, as the airline has no ground staff to take care of it.
But how does the handler know that he has to pick up a bag that is spinning on the conveyor belt to be delivered to a customer? Impossible for him so he waits.
He waits until all the passengers have taken their luggage and then looks at those who remain once everyone has left. This can last a long time.
And in the meantime nobody knows where the luggage is and nobody is watching over it.
So there will be a gray area where I will be the only one to know that my suitcase is at Orly. The airline has forwarded it, the handler is waiting to go on an inspection tour to see if any unclaimed luggage remains.
5°) The luggage is stolen
Here two things can happen.
The first is that a person inadvertently takes a piece of luggage that is not theirs. It happens, but they always end up bringing it back, especially since it means that her luggage stayed at the airport.
The second is a theft. And it is much simpler than you may think as I quickly understood and suggested to Mrs. Dos Santos who did not contradict me.
The luggage that travels without its owner remains alone on the conveyor belt when everyone else has left. It is usually labeled with a flashy label, such as "rush" labels, which mean that the baggage must be especially watched during a short connection.
But on a luggage conveyor belt there are no "connecting" luggage, and even less in an airport like Orly where they are rare.
Conclusion : anyone who knows anything about the industry knows that a suitcase left alone with a "rush" tag is a piece of luggage whose owner is not there to collect it. All he has to do is grab it before the handler makes his rounds and leave the airport unchecked.
And if a simple passenger like me understood the "trick" right away I think a lot of malicious people have known it for ages.
Yes, it's not reassuring, but if one day your suitcase should arrive late, you should know that for a while it will be in a grey zone, with no one to watch over it, at the mercy of everyone.
6°) The staff does not know what is going on
At this stage it is anecdotal. Even if they knew they had to pick up a specific suitcase on a particular flight, there is a gap between the time it arrives and the time they pick it up.
Unless the delayed luggage was specially accompanied from start to finish, nothing could have prevented the theft. And from that moment on, it doesn't matter if they imagine that the suitcase is still in Lisbon or not, the scenario is already written and the suitcase is already far from Orly when I talk to them.
7°) It took me a long time to talk to a competent human being
Again, this is anecdotal. If the suitcase had gone to a service provider by mistake, it could have sped things up, but it didn't.
Mr. Babu and Ms. Dos Santos did what they could butthe damage was already done. They helped me understand what happened but they couldn't prevent it.
So waiting 4 days to talk to a manager is not a malfunction because it should never happen. The real issue is once again the lack of baggage trackingand the lack of information from the staff, but this is less a problem of people than of the system and the same thing could have happened in any airport with any airline.
On the other hand, my regret is that the 3 or 4 people I contacted at TAP in France or at the headquarters who should have been primarily concerned by my problem never deigned to answer me. When so little importance is given to this type of subject, it shows where the customer stands in the scale of priorities of the business. For me, this is more a problem of organization and business culture than of people.
8°) But what does the Police do? Nothing
If you read the many blogs that talk about travel in France and especially abroad you have seen tons of articles that tell how people were able to locate their luggage with an Airtag while the airline was blind and could then appeal to the airline staff or to the police to recover their property.
None of that here.
I won't even discuss the reception at the police station.
The truth is, they probably have plenty to do and aren't enough to make my suitcase a priority issue in the face of a mugging and a drug case.
But the response I received at the police station, suggesting that it was up to me to take charge, left me speechless.
As I said when talking about the essential gadgets to always have in your suitcases and travel bags: an Airtag will be of no use to you if at some point the people who have to act don't do it.
What can be done to make things better?
To get to the end of the matter, we must ask ourselves what could have been done to prevent this incident from happening. Criticizing is easy, providing solutions is better.
I see three main areas for improvement.
1°) Improve communication between the handler and the airline
If the handler had known that a suitcase with a visible label had to be picked up at the arrival of a flight, maybe the theft would not have taken place.
But there was an obvious problem of information exchange between the two parties.
2°) Improve the follow-up of "orphan" luggage
A piece of luggage that travels without its owner cannot be considered as a piece of luggage like any other. If we admit that he will stay on the baggage belt "a certain time" before being taken care of, then this time must be reduced to a minimum or even ensure that it is always under surveillance.
Better communication between the airline and the handler would go a long way to solving the problem. But perhaps it is also necessary that a person is specially informed and designated so that these suitcases do not remain long moments unwatched.
Intercept them before they arrive on the conveyor belt? As soon as they arrive on the conveyor belt? With a specific tag and a description, it is feasible, especially since there is the number of the baggage receipt to check.
3°) Control the exit of the luggage in the airport
In some countries I have had to show my baggage receipt in order to leave the delivery room and this simple measure would definitely solve the problem.
This is obviously not a topic on the agenda of the French authorities.
I leave it to you to judge its relevance.
After the irreparable happened I think things should have gone better with the customer service. It wouldn't have changed anything but would have improved my perception of it. A manager of an airline once told me "for a customer the best experience is not a problem-free flight but when there is a problem and he sees that we go out of our way for him". And this is far from being wrong.
Except for the two people I mentioned, I had the impression that everyone was uninterested in the subject, content to do their job without looking further than the obvious.
And I won't blame the individuals I interacted with. I repeat every day at work that in an organization dysfunction is in 96% of cases a system problem and in 4% a people problem.
Here we have a problem of system, therefore of culture, process and tools. I think Mr. Babu came out of the system to help me but alone he could not do miracles.
4°) Technology will not save the customer experience
Let's start with technology, which many try to convince us is the alpha and omega of the customer experience.
Without naming names and after a cursory glance it seems to me that TAP uses some of the best tools on the market for its service and customer relations. At most, I regret that when they write to me by email and on twitter, the context is not shared between the two teams and the two tools, which forces some repetition and makes their answers sometimes less relevant.
Okay, Worldtracer dates back to the time of the dinosaurs but it is the industry standard, provided by IATA (International Air Transport Association).
On the other hand,using the best technology to serve a dysfunctional organization and people who don't have an adequate service culturedoesn't help.
5°) A real operational concern at TAP
Before I had this experience, I often complained about TAP boarding. Long, chaotic, poorly managed in terms of timing. In fact they are not poorly managed but poorly designed. Then the staff just executes what they have been told to execute.
At the customer service level I found the same feeling. And customer service is part of the operations, like all the airline's activities. Yes, you can submit forms to make claims. But they are poorly designed, poorly explained and for the customer it seems that everything has been done so that they can never make a complaint or talk to someone.
With a little hindsight we see that they were thought for one thing: to make a claim. But not to make this claim simple for the customer or to make life easier for the people handling it. A claim is a means, not an end.
The purpose of a form is not to be submitted but to allow the resolution of a problem.
Four examples
– The text is limited to 4000 characters. Too little to present a complex case.
– I am asked to enter my loyalty program number. I can choose my program (SAS Eurobonus) but the form returns an error due to the fact that I do not enter a valid TAP client number. In this case, it is better not to propose to fill in this field for the partners' customers.
– When I fill out this form and respond to the negative answer I receive in return, I am asked to fill out this form again. 3 interlocutors on the basis of the same form but no information sharing between them. It's not a tool problem but a process problem.
– Now it is easy to see that we are going in circles and that I keep filling in and re-filling in forms. At what point does the system say enough is enough and I need to talk to a manager? Never.
– One month for a negative answer. Then a month to tell me that following a response to an email from me I have to re-fill out a form? It's not a tool problem but a process problem.
From the customer's point of view, the "TAP system" is made to make it as complicated as possible to submit a claim, does not necessarily help those who have to deal with them and one wonders if the objective is to deal with them or to avoid them.
In this context, the customer's complaint is a bug that they want to avoid,the customer is a bugthat they don't want to talk to. But at first the bug is what the airline did, not the customer who suffers it.
Between online ticket sales, boarding and what happens once the flight is over in case of problems…there is a real issue. And when there is a design problem, there is often an execution problem.
6°) Customer service is above all a matter of culture
A good customer experience is, according to some, a matter of tools and processes. But it is above all a question of culture.
With a customer-oriented culture, TAP's online ticket sales, customer service and overall digital operations would not be so pathetic. If there was a real experience design project, if there were tests, the testers were either corrupt or blind.
With a true service culture, we don't say to a customer "you didn't send back the inventory of your suitcase so we won't compensate you". And when the customer re-explains the context, a manager is called instead of telling the customer to fill out a new form. In my opinion, there is not even a desire to rip off the customer, just a cruel lack of common sense and perspective.
With a true service culture, at some point, someone goes the "extra mile", steps out of the process, raises a hand and says "something is wrong". Here only one person has done so. That's a lot considering that the subject shouldn't have been brought up to him but it doesn't solve anything in an organization that seems totally apathetic on the subject. I have many examples of excellent customer service in the airline industry and most of them have one thing in common: people who go above and beyond their job description, their role, the processes, to satisfy the customer. Sometimes it just means saying "this is bullshit, I'm not going to enforce the rule like an idiot, I'll stop everything and call my boss".
With a true culture of servicethe lounge staff is empowered to handle issues of delays and rebooking.
With a real customer culturea complaint is filedto have access to the airport videos.
Culture influences the design of processes, online customer journeys and the execution of operations. Here it may be the basis of everything. I am tempted to say thatif the service virus is spreading in the airline I have come across many asymptomatic people.
One more for the road? What do you think people have in mind when they imagine that the customer who fills out a form following an irregularity would want to check the box "I don't want a response to my complaint".
Yet this checkbox exists and its existence does not raise any questions.
Who is responsible?
We might as well go all the way. Now I see many people telling me "we told you, TAP is the worst customer service in the world". This is a bit of a leap. As is often the case when something goes wrong, it is the result of many small things and the responsibilities are shared.
1°) The Handler in Lisbon
All they had to do was load the suitcase. We'll start there.
2°) The airline
To use a famous phrase, TAP is responsible but not totally guilty. Responsible because the law makes them responsible for my suitcase. Not totally guilty because if they are responsible for their processes, the organization of their customer service, their online experience, the way their teams respond to the customer…I don't think they are operationally guilty of the failure to load the baggage, the lack of control at the exit of the delivery room in Paris etc.
But his role is to assume for everyone else.
3°) The public authorities
For the French authorities the control of the ownership of the luggage at the exit of the delivery room is not a subject nor a priority? In other countries this is the case.
4°) The handler in Paris
This is the only one I absolve. Without information they could do nothing and were totally blind.
5°) The police
No comment.
What next?
Practically speakingI don't expect any answer from TAP anymoreand the only solution would be to go through a lawyer. The one I was put in contact with asks me before he even start working for an amount almost equivalent to the maximum compensation allowed by the Montreal convention. I got screwed once in this business, not twice.
However, since the airline refuses to apply it, I don't see why I should limit my claims, since the baggage was stolen under their responsibility, which for me constitutes a greater fault than a "simple" loss.
But for the moment the facts are clear: the airline is at fault and refuses to assume its responsibilities.
Now who is going to sue them for that when enforcing your rights costs you more than you can theoretically expect to recover.
But I'm not giving up and will let you know if I find a way to get redress. But I must admit that I have a lot of more important things to think about and I'm tired of this story.
And you, what would you do?
Photo : luggage theft by cunaplus via shutterstock.